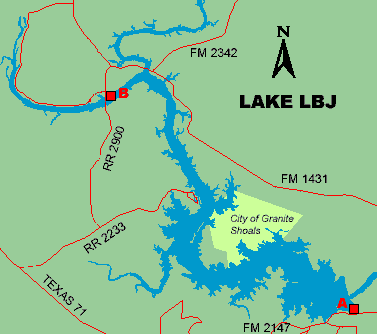 About the Lake
A major flood event in the fall of 2018 devastated Lake LBJ.  A fifteen foot wall of water came down the Llano River knocking out the 2900 bridge and damaged hundreds of homes along the river's edge.  While it will take many years for the lakeside communities to recover, this 6,449 acres lake already shows signs of a quick recovery. 
Known for its BIG largemouth bass, it's not uncommon for anglers to catch several five pound largemouth bass in a single day.  Catching a few in the seven to nine pounders is also common on Lake LBJ!
Anglers have choices on two different types of water to fish on this 22 mile long Highland Lake. However, anglers can easily fish the entire lake in a single day. (see below "Main Lake" and "Up River")
"Main Lake"
The main lake is comprised of many lakeside communities around the creek arms that merge into the main body. Anglers focus  their fishing in less than 15 feet of water of this shallow impoundment. Targeting boat docks, hydrilla and lilly-pads in the spring and summer, produces trophy sized largemouth!
"Up River"
Lake LBJ is short and making a run up the Colorado River from the dam is just minutes away.  Even though this is a very narrow section of the lake, it is favored by anglers when the white bass make their annual run for spawning.
Anglers target largemouth bass throughout the lake.  Occasionally, anglers catch Guadalupe bass when fishing up the Colorado River section.  Lake LBJ does have a healthy population of white bass and crappie which can be found in deeper water around the mouth of the few creeks that feed into the lake. 
Guide Services
Central Texas Fishing Guide provides half-day and full-day guided fishing trips on Lake LBJ.  These guide trips primarily target largemouth bass.